Program Details
Main Content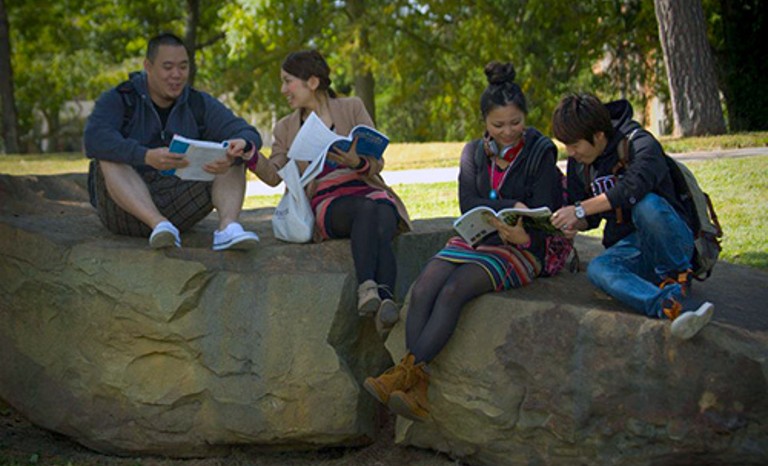 Terms of Study
There are four 8-week terms during the regular academic school year and one in Summer. Check out the complete term schedules. The terms begin in August, October, January, March, and May, making a total of five enrollment periods for the year.
Placement
Initial course placement into the nine-level program is determined by performance on the Oxford Placement Test and an internal Diagnostics Exam.


Overview & detailed description of CESL Curriculum
The complete CESL program has nine levels, the lowest four involving an individually-based curricular format (see below). The number of levels needed to complete the program is based on initial placement. All students receive in all levels 20 hours per week of intensive English language instruction. At each level above Learning Center (see below), all language skills are treated in a "core" class meeting 10 hours per week. Additional instruction is provided at each level in two 5-hour classes that differ by level, as indicated below.
Instruction for the lowest four levels takes place in a "Learning Center," which involves students combined in a single cohort studying at various stages of the beginning and elementary stages. The instructor helps each student attain the learning objectives they need to master before graduating to the Advanced English 1 level. Each student progresses at their own speed.
Average class size is 6-7 students, so there is a lot of interaction in each class between classmates and with teachers.
Description of each level and course in terms of measurable learning outcomes (also available in the syllabus for each course).
CESL Level Descriptions
Foundation English
General English
Advanced English
English for Academic Purposes
Graduate Student English
Progression Through Program
Level Promotion Guidelines: (Effective March 2019)
The following conditions must be met to pass a level:
Category
Levels*
Grade Required
TOEFL ITP entry requirement **
Equivalent iBT***
(per ETS)
Equivalent IELTS***
(per ETS)
Learning Center
FE 1
Completion of 80% of learning objectives
Not needed
Not needed
Not needed
FE 2
GE 1
GE 2
Advanced
AE 1
80% grade or above in all classes
Not needed
Not needed
Not needed
AE 2
Academic Preparation

EAP 1
80% grade or above in all classes
Not needed
Not needed
Not needed
EAP 2
80% grade or above in all classes
475
73
5.5
GSE
80% grade or above in all classes
500
61
60
* All levels can be repeated a maximum of 2 times and can be taken a maximum of 3 times.
**We will only accept ITP (Institutional Testing Program) TOEFL scores from test administered here at CESL. No outside ITP scores will be accepted for level progression or program completion.
***Students wanting to use IELTS or iBT scores for promotion must submit them by Wednesday of week 8. CESL will contact IELTS or ETS to confirm the validity of the scores. Students who submit fraudulent scores will be immediately expelled and their CESL I-20s will be terminated.
CESL Completion Certificate:
Students will receive a completion certificate from CESL after passing all required levels:
If your goal is undergraduate studies, you must pass the EAP2 level to receive the certificate.
If your goal is graduate studies, you must pass the GSE level to receive the certificate.
There is no exit TOEFL requirement. However, to exit a level, students must meet at least the minimum TOEFL score required for that level. Please refer to the chart above for TOEFL and grade requirements per level.
Completing CESL does not guarantee admission to SIU. Students must apply and meet all SIU admission requirements (academic and language) to be eligible for admission. Please visit the Center for International Education (CIE) or the Graduate School office website for a complete list of admission requirements.
Length of Study
| Starting Level | Average Number of Terms for Completion from Level |
| --- | --- |
| Learning Center | 5-9 |
| Advanced English 1 | 4 or 5 |
| Advanced English 2 | 3 or 4 |
| English for Academic Purposes 1 | 2 or 3 |
| English for Academic Purposes 2 | 1 or 2 |
| Graduate Student English | 1 |
On average, students beginning at our lowest levels take 18 months to complete our program.
Orientation
The student advisor plans orientation programs for each CESL term. These sessions explain topics such as safety, academic success, immigration, the opportunities available in Carbondale and SIU Carbondale. Organized extracurricular activities at SIU Carbondale, picnics, and parties are a regular part of life at CESL.
Housing
There are many affordable housing options. Explore SIU housing options online. Most students prefer living in student residence halls near campus. The approximate cost of room and board is indicated under the COST tab. 
We would be happy to email you information about housing or we can help you arrange living accommodations when you arrive.
Certificates
A Certificate of Completion is awarded to students who successfully complete a CESL program at either the undergraduate or graduate level. A Certificate of Attendance can be issued reflecting the actual dates you attended. Transcripts of performance are mailed directly to an institution upon the request of the student. Unofficial student copies are also available.
Customized Programs For Special Groups
Custom-designed English language training programs can be arranged. These programs provide the appropriate English studies for the specific interests and needs of the participants. Any number of participants, length of study and interest area can be accommodated. 
For more information, please write directly to the CESL Director, Bill Hellriegel william.hellriegel@siu.edu.
Cesl Computer Labs
Students can work in the CESL Computer Labs to improve their skills in English. Our computer labs are equipped with standard and language learning software.
Academic Counseling
You are aided in making arrangements for further academic study in the U.S. by a student advisor.