Program Details
Main Content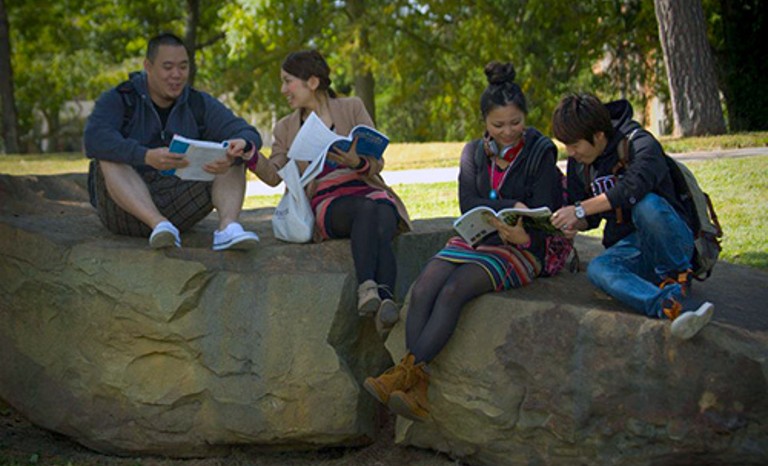 Terms of Study
There are four 8-week terms during the regular academic school year and one in Summer. Check out the complete term schedules. The terms begin in August, October, January, March, and June, making a total of 5 enrollment periods for the year.
Placement and Promotion
Initial course placement into the seven-level program is determined by performance on the Oxford Placement Test and an internal Diagnostics Exam. Promotion within CESL levels is determined based on grades. The Institutional TOEFL is also administered to all students in English for Academic Purposes 2 and Graduate Student English as it is also required for release to full-time university admission. 
Description of CESL Levels
The complete CESL program has seven levels. The number of levels a student needs to take in order to complete the program is based on initial placement. Students enrolled at CESL receive 20 hours per week of intensive English language instruction. All language skills are combined with additional instruction in English grammar, pronunciation, speaking, listening, reading, and writing which are offered from beginning through undergraduate levels of study. The average class size is 11 student per classroom. Therefore, there is a lot of interaction between teachers and other classmates. See a description of CESL levels here.
General English 1 – Beginning level
General English 2  - High beginning level
Courses help students build language-learning habits, encourage fluency, promote self-confidence, build receptive language proficiency and provide content for transition to functioning in the U.S. living environment.
Advanced English 1 – Low intermediate level
Advanced English 2 – High Intermediate level
This level transitions students from general English to advanced English by introducing early academic skills, language accuracy, and higher expectations. Courses give students exposure to and practice of receptive and productive language and critical thinking skills; continued building of higher-level receptive skills with explicit attention to study and reading skills, introductory narrative and expository writing. 
English for Academic Purposes 1 – Low academic level
English for Academic Purposes 2- Undergraduate preparation level
Course content transitions students from learning general English to learning English through content and academic English. Topics include learning and applying study skills and language strategies with a variety of academic-based content; focusing on skill application to learn and remember information for testing purposes; writing and speaking in the expository and persuasive modes, with an introduction to the scientific inquiry process. 
Graduate Student English – Graduate preparation level
Courses provide students with activities that include library use, summarizing and critiquing articles from professional journals, oral presentations, readings, essay exams, seminar-style discussions and the preparation of reports and graduate level papers in their field of study. Advanced Communication courses focus on building and improving interpersonal interactions, presentation, listening, and pronunciation skills.
Progression Through Program
CESL uses a multi-pronged assessment system to determine true language ability and readiness for university study. Some combination of the following criteria is used for each course at each level to determine the overall grade for that course: attendance, participation, homework, presentation/ speaking activities, writing assignments, quiz scores, mid-term test scores, final exam scores, and several other items.
Student progress is evaluated throughout each term and also at the end of it. Each CESL student receives both a midterm progress report and final grade report for all of their courses at their level. An end-of-term grade for the level is given as a single percentage (all course grades combined for one overall grade): An overall score of 80% or above, with no individual class grade below 75%, allows a student to pass the level and graduate to the next level. An overall average of less than 80% or a single course grade of less than 75% requires the student to repeat the level.
Exiting Criteria
For completion of the program, scoring 80% overall in EAP 2 is the requirement. For SIU bound students, in addition to the 80% overall, students must score 500 on the TOEFL to successfully enter the university or be eligible for GSE. A student who has passed all classes in EAP 2 with 80% in each class twice, will be considered (with recommendation) for Full-Time University (FTU) or Graduate Student English (GSE) status without the TOEFL score.
For GSE, students must pass their courses with an 80% or higher in each course and earn a 500 on TOEFL. Additional entrance requirements for Graduate School will be determined by the major department.
Length of Study
| Starting Level | Average Number of Terms for Completion |
| --- | --- |
| General English 1 and 2 | 5 or 6 |
| Advanced English 1 | 4 or 5 |
| Advanced English 2 | 3 or 4 |
| English for Academic Purposes 1 | 2 or 3 |
| English for Academic Purposes 2 | 1 or 2 |
| Graduate Student English | 1 |
On average, students beginning at our lowest levels take 18 months to complete our program.
Orientation
The student advisor plans orientation programs for each CESL term. These sessions explain topics such as safety, academic success, immigration, the opportunities available in Carbondale and SIU Carbondale. Organized extracurricular activities at SIU Carbondale, picnics, and parties are a regular part of life at CESL.
Housing
There are many affordable housing options. Explore SIU housing options online. Most students prefer living in student residence halls near campus. The approximate cost of room and board is indicated under the COST tab. 
We would be happy to email you information about housing or we can help you arrange living accommodations when you arrive.
Certificates
A Certificate of Completion is awarded to students who successfully complete a CESL program at either the undergraduate or graduate level. A Certificate of Attendance can be issued reflecting the actual dates you attended. Transcripts of performance are mailed directly to an institution upon the request of the student. Unofficial student copies are also available.
Customized Programs For Special Groups
Custom-designed English language training programs can be arranged. These programs provide the appropriate English studies for the specific interests and needs of the participants. Any number of participants, length of study and interest area can be accommodated.
Cesl Computer Labs
Students can work in the CESL Computer Labs to improve their skills in English. Our computer labs are equipped with standard and language learning software.
Academic Counseling
You are aided in making arrangements for further academic study in the U.S. by a student advisor.